Ziplining in St Maarten - Saint-Martin
Activities in St Maartin/Saint-Martin
Ziplining in Sint Maarten – Saint-Martin
If the paradise-like beaches of St Martin and Saint Martin are surely what will draw you to our island, many other activities are also available for you to enjoy during your stay. Ziplining is one of them. It is a fantastic way to enjoy a panoramic view of the island, visit the jungle-like landscapes of the hills and have fun zipping down the mountains or flying over the canopy. During your adventures, you will often cross path with some of the mischievous little monkeys that populate our island. The two places I recommend for this activity are the Loterie Farm on the French side and Rainforest Adventure on the Dutch side. The Budget car rental team will gladly help you with directions should you chose us for your car rental needs while visiting Sint Maarten/Saint-Martin.
The Loterie Farm:
Located on the French side, the Loterie Farm offers much more than ziplining. It is a great place to hang out at the pool with friends and families, hike, dine and even dance on EDM music when DJ's are performing. The grounds are exceptional and will transport you in a paradise. It is a must visit place in my opinion.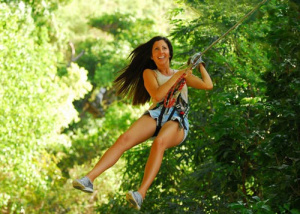 Rainforest Adventure:
With it's stunning platforms located at the top of the mountains and visible from Simpson Bay, Rainforest Adventure is more specialized in those type of activities and also one of my favorite places to take visitors. You will need to take a chairlift to the top of the mountain. Once there, you will enjoy the most amazing 360° view of our island, the turquoise color ocean and the neighboring islands: St Bath, Nevis, St Kitts, St Eustatius, Saba and Anguilla are all visible on a clear day! On the large wooden platforms, a friendly bartender can make you a drink to sip while looking around. The main zipline (Flying Dutchman) is in fact the steepest zipline in the world. While it looks impressive, it still remains accessible to everyone. The canopy ziplines are great and the tubing accessible at mid-level was actually much more fun than I expected. Back to the bottom of the hill and after such thrill, I recommend to visit the little museum that will teach you about the rich history of the island. Did you know the Island was discovered and named by Christopher Columbus and occupied as far as the 1600s? I also recommend to dine or lunch at Emilio's, the adorable "Italian-style" and excellent restaurant located at the base of Rainforest Adventure.
<img class="img-left img-responsive" src="/uploads/crop/article/sxm-flying-dutchman-courtesy-of-ziprider-300x_.jpg" alt="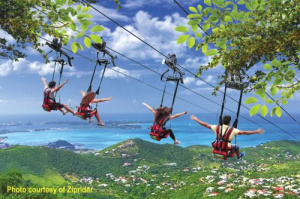 ">
Philippe Grapinet July 9th, 2020